2021 Porsche 911 Turbo Hits the Streets Early Next Year with 572 Horsepower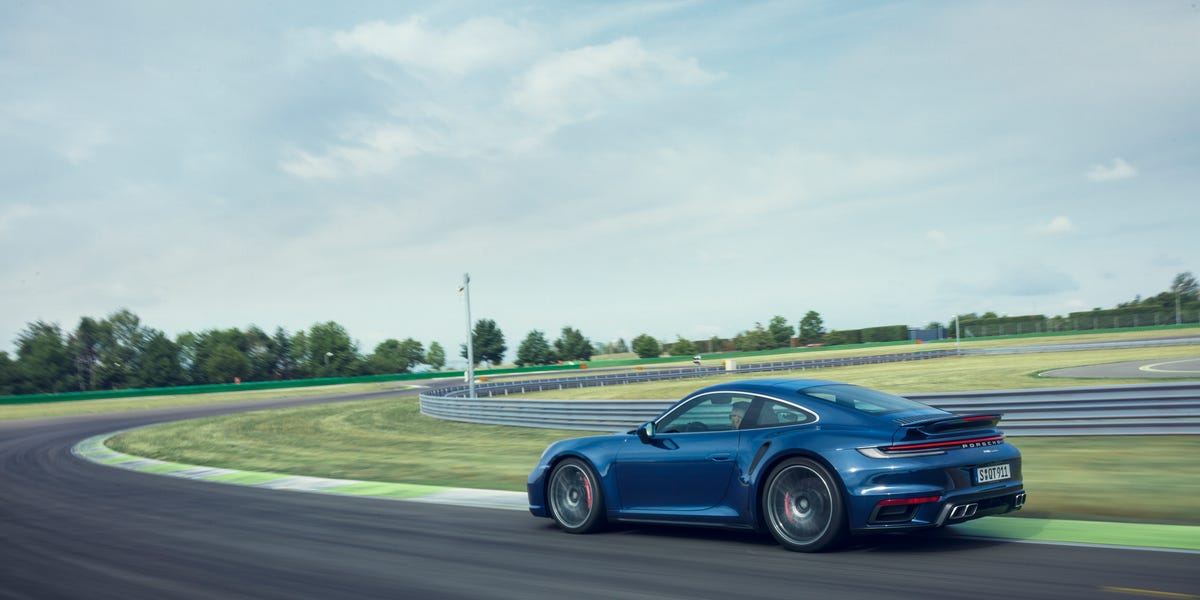 In lieu of the canceled Geneva Auto Show in March of this year, Porsche revealed the 2021 911 Turbo S and heralded its 640-horsepower-generating turbocharged 3.8-liter flat-six engine. Now a few months later, its little brother, the non S 911 Turbo is ready to make its debut, providing just 572 horsepower to play with from an engine with the same displacement. That's 68 horsepower less than the S, but also matches the last generation Turbo S' output.
Long story short, Porsche seems to have figured out this horsepower thing pretty darn well. To make it happen, Porsche uses two variable geometry turbochargers that adjust the turbine blades much like a constant speed propeller does on an airplane. From there, electrically controlled bypass valves, a re-designed charge air cooling system, and piezo fuel injectors all contribute to the 32 hp and 67 lb-ft gain in output over the last generation Turbo.
Used in conjunction with the eight-speed dual-clutch transmission Porsche calls PDK and all-wheel-drive, 60 mph is just 2.7 seconds away from rest, 2.8 seconds if you select the cabriolet. Try as you might, you won't quite make it to a double century as this 992 generation 911 Turbo tops out at 198 mph. Unless, perhaps, you find a nice big hill to drive down.
As did the Turbo S, the Turbo has a 1.7-inch wider front and 0.4-inch wider rear track than the outdoing model and uses a wider set of staggered tires: 255/35R20s in front and 315/30R21s in back. Porsche also wedged in bigger brake discs, now measuring 16.1-inches in front, 15.0 in back. If that's not enough for you, Porsche Ceramic Composite Brakes will be optionally available.
When the going gets curvy, 2021 Porsche 911 Turbos now come standard with rear-axle steering and adjustable dampers called Porsche Active Suspension Management or PASM. More standard equipment includes the adaptive aerodynamics that utilize an adjustable air flap and spoiler in front and an a bigger wing with multiple settings in back.
But don't worry, there're still lots of ways to spend your money. You can upgrade to a sport exhaust system, lower the Turbo by 0.4-in with the sport suspension, add adaptive anti-roll bars called PDCC or Porsche Dynamic Chassis Control, even commit to the Lightweight and Sport packages. The former removes the rear seats, reduces noise insulation, and adds full bucket front seats, which takes 66 lbs out of the car. The latter adds some carbon-fiber and other design-oriented bits.
Inside, you get a 10.9-inch screen to work with and 14-way power adjustable seats to sit in as standard. There's also a GT steering wheel, the Sport Chrono package and a nice stereo to listen to. Base price comes to $172,150 for the coupe and $184,950 for the cabriolet, which translates to a $32,700 discount for either coupe or cabriolet when compared to the Turbo S. Is that savings worth it for losing 68 horsepower? We'll let you know once we get the chance to drive it.
This content is created and maintained by a third party, and imported onto this page to help users provide their email addresses. You may be able to find more information about this and similar content at piano.io